For GOOD... For EVER...
You can support a range of projects and individuals in our community. When you make a gift of cash, appreciated stocks or other assets to the Battlefords and District Community Foundation, you are making a difference forever.
You can become personally involved in how your donation benefits others by establishing a Donor Advised Fund. Have a discussion with us or your estate planner about the tax benefits you can gain by establishing a fund with us.
Make a Donation
Endowment Building
You can provide lasting support to your favourite cause with a single donation that will be invested to provide the maximum amount of annual income.
Grantmaking Expertise
We can provide advice about local needs in your area of interest. We will also manage the grant administration process.
Community Leadership
Everyone involved in the Foundation has strong ties to the community and knowledge about the needs in the Battlefords. We bring people and organizations together.
Community Updates
Help for Ukrainian Refugees
Donors who would like to help those impacted by the conflict in Ukraine can do so through us. Our Caring Communities Fund is here to support community needs.
If you would like to do an online cash donation please use the Donate Now button at the bottom of the page.
You can also mail a cheque payable to: BDCF, Box 1302, North Battleford, SK S9A 3L8. Let us know which agency you would like to support from this list.
If you would like to donate shares/securities please contact us directly at 306-441-2961.
Nico Hawryliw Fund Supports Junior Golf
Allison Hawryliw and Lionel Hawryliw recently presented Dana Johnson with the annual grant from the Nico Hawryliw Fund. This grant will support the junior golf program at North Battleford Golf and Country Club. More info here.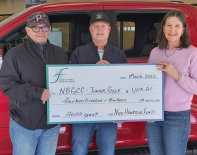 In the photo (l-r): Lionel Hawryliw, Dana Johnson, Allison Hawryliw
2022 Scholarships Awarded
The winners of the Hazel Asmussen Fund annual scholarship are Seth Kennedy and Dmitri Masich.
The winner of the Peter Lewochko Fund scholarship is Cole Fransoo.
More info here.
The winners are above (l-r): Seth Kennedy, Dmitri Masich and Cole Fransoo
10 Principles
We Build Community Vitality

We Understand Our Communities

We Create Opportunities for Dialogue and Inclusion

We Embrace Partnerships

We Tackle Pressing Issues

We Embrace Diversity and Foster Renewal

We Grant for Breadth and Impact

We Build Community Assets and Champion Philanthropy

We Learn and Share What We Know

We are Responsive and Accountable